Social Benefit Report (SOBER) is comprehensive report that helps beneficiaries discover Government Welfare Schemes which they are entitled for. The report consists of
The Scheme Name
Scheme Description
Documents needed to apply
Process and Protocols to be followed to avail the scheme
There are 6,000+ Government Welfare Schemes and on an average a person can benefit from 12+ Schemes
Unique Adhikar Number (UAN Card) is a hassle-free method of accessing and sharing Government & Private Benefit records digitally. It enables the beneficiary to interact with participating Benefit Providers, and allows the beneficiary to receive digital Benefit seamlessly from verified Government & Private Benefit Providers.
Can be used to avail various Government and Private schemes.
It can be used by multiple stakeholders to evaluate and validate individuals as the ecosystem develops.
Identify Beneficiaries and offer them customised services depending on the profile and neediness.
Updated Government or Private schemes can be checked using the QR code without regenerating the entire report.
Health ID or Ayushman Bharat Health Account (ABHA) is the government of India initiative under Ayushman Bharat Digital Mission (ABDM).
The core objective is to deliver health services to remotest areas of the country and to cover Every Indian Citizen. It is a single repository of all their health-related information. Creating Health Id Card or ABHA number along with an ABHA address or PHR address will help everyone to receive all kinds of medical reports and prescriptions digitally from the doctors and other health service providers.
Watch Modi Ji Speak on ABHA
What is Ayushman Bharat Health Account - ABHA or Health ID Card?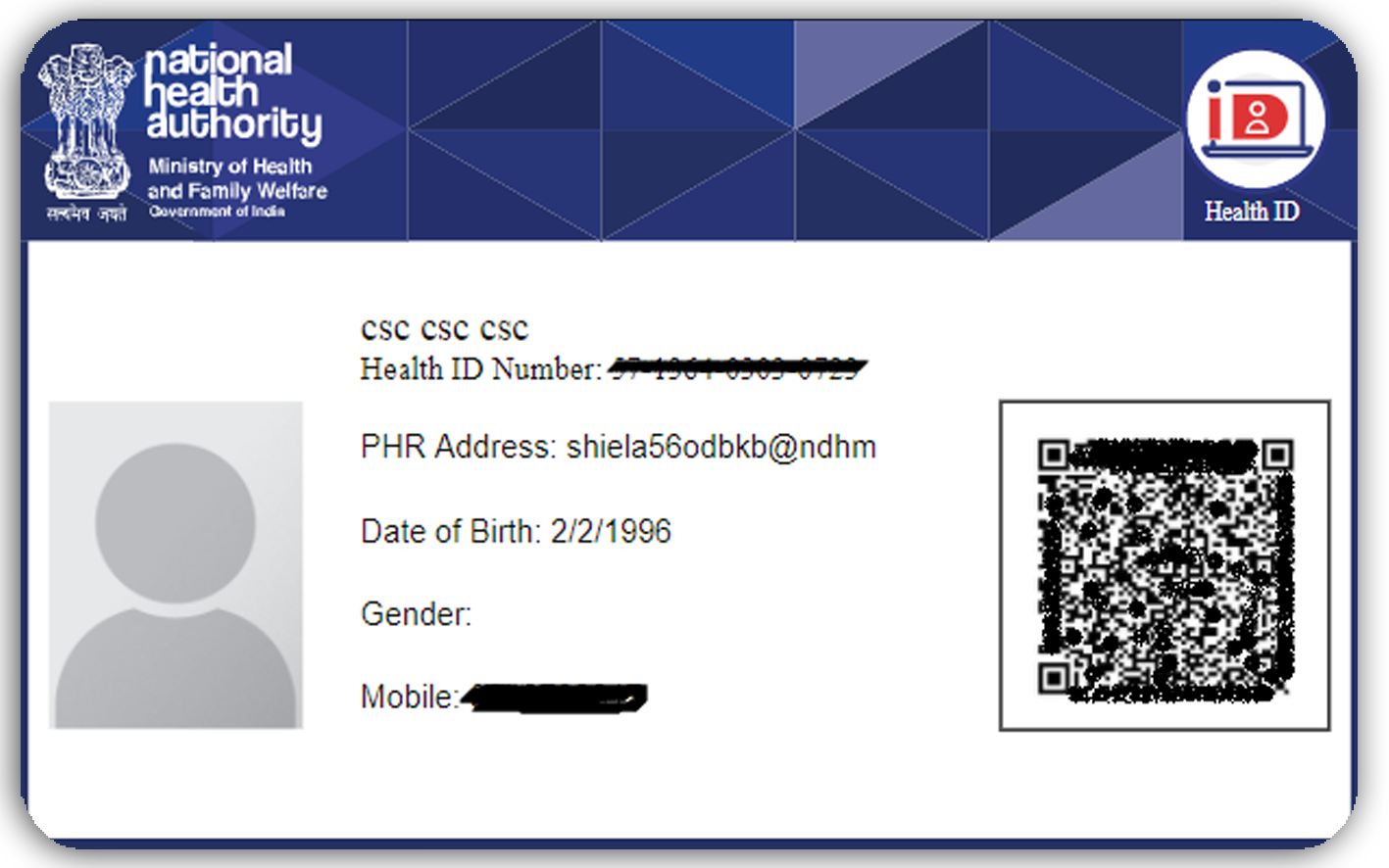 ABHA (Health ID) card is a 14 digit unique number with which you can link all your health records digitally.
Benefits of digital health ID card
Digital health records with Paperless Experience: Access your health records that have the tracks from admission to treatment and discharge.
Maintain Long-Term Health History: Option to link your Personal Health Records (PHR) with the digital health ID to generate long-term health history.
Access to Healthcare Professional Registry (HPR): The health ID enables access to verified Doctors in a secure environment.
Health Facility Registry (HFR): which is a list of all the government and private medical facilities all over India.
Secure and private: The digital platform is developed with strong security and encryption mechanisms. Your consent is required every time your PHR is being accessed.
Consent based access: Only after your informed consent, your health data is shared with relevant participants. You also have the option to manage and revoke consent.
LET US CREATE
A SOCIAL IMPACT.
SHARE THIS WITH FRIENDS & ASSOCIATES.